Locker Lock Season is HERE! And we are proud to partner with Master Lock, who is known for providing the high-security locking solutions people need to protect their possessions. Master Lock is one of the leading padlock and Bluetooth lock brands. Based on the popularity of its Bluetooth padlocks, Master Locks' connected category offers related products, such as Lock Boxes and software.
More Than Just Padlocks - Master Lock is known for their award-winning Bluetooth Padlocks, and their connected products category leverages the latest technology. The company has since added Bluetooth Lock Boxes and Master Lock Vault Enterprise software for commercial use to its portfolio - and in 2021 - introduced its most durable Bluetooth Padlock yet, the ProSeries Bluetooth Padlock.
Know your student's or customer's belongings are safe. Master Lock offers a variety of padlocks perfect for securing your locker. For maximum protection, reinforced shackles or laminated steel bodies are available on some combination and keyed padlocks.
Since 1921 Master Lock has been the world's premier supplier of padlocks, security products and key systems. Master Lock products are used by consumers, contractors, business professionals, hospitals, and government agencies alike.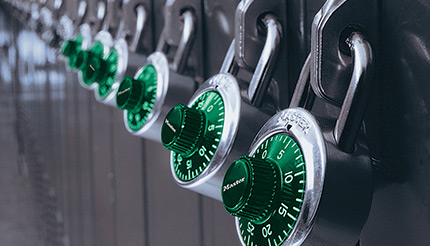 Keying & Custom Options

Master Lock offers a variety of special services to customize your locker locks to best suit your organizations needs including colors, laser engraving, keying options & more.
Choose a Color That Fits Your Organization
Personalize your Master Lock Combination Locker Locks with color to complement your school or organization – available on the 1500 Series and the 1600 Series Built-In Combination locks (metal dials only). Choose from a variety of colors available including Green, Blue, Purple and more!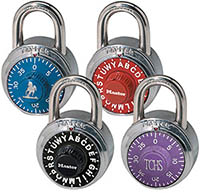 Add Logos or Text to Your Lock
You can personalize the Master Lock Combination Locker Locks. Choose laser engraving to add your organization's name or logo to the dial knob for enhanced aesthetics. Laser engraving etches an image – logo or name, directly onto the dial, revealing the silver material underneath.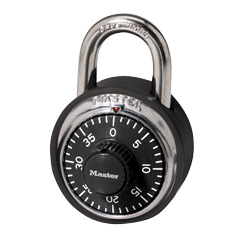 Add Bumpers and Back Case Printing
Add bumpers to your portable combination padlocks to reduce locker wear and noise. Available in black. Specialized back case printing is available to add your custom text, engraved, in the back of your portable combination padlock.
Keying and Combination Options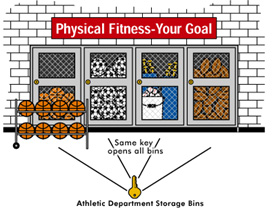 Keyed Alike

One key opens all locks in a system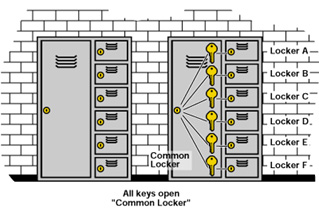 Group Keyed

Four to seven people have access to the same full-length locker as well as to their individual box lockers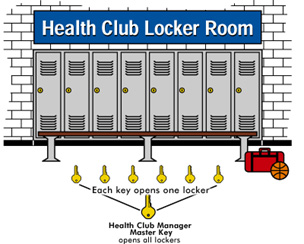 Master Keyed

While each lock has its own key, the master key will open all locks within the system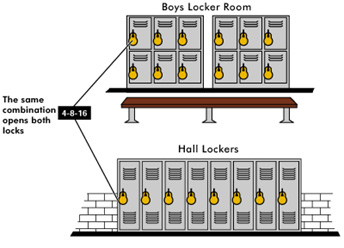 Combination Alike

Two or more locks available with identical combinations for added user convenience
Shackle Options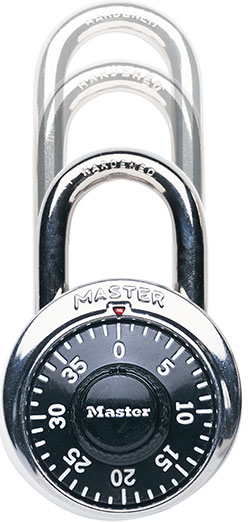 Master Lock Portable Combination padlocks are available with multiple different shackle size options to be sure to fit your application.
| Shackle Variations | Shackle Heights | Shackle Material |
| --- | --- | --- |
| 1502 | 3/4in1-1/2in2in | Hardened Steel |
| 1525 | 3/4in1-1/2in2in | Hardened Steel |
| 1572 | 3/4in1-1/2in2in | Hardened Steel |
| 1585 | 3/4in1-1/2in2in | Hardened Steel |
| 2010 | 1/2in2in | Boron Alloy |
Recent Posts
Anti-ligature hardware is essential in ensuring safety within various facilities, such as healthcare …

Smallwood Lock & Supply is proud to announce we have been officially recognized by the Grea …

Locker Lock Season is HERE! And we are proud to partner with Master Lock, who is known for prov …